PVC Pipes & Fittings
Product range
 Saurabh Shaktiman offers an exhaustive range of uPVC pressure pipes and fittings. Pressure pipes are manufactured as per IS 4985:2000 standards and are available in 20mm to 315mm sizes in various pressure rating classes i.e. 2.5kg/cm2 to 12.5Kg/cm2. We offer pipes with both types of joints i.e. solvent cement type and rubber seal type joints are available. Varieties of moulded fittings manufactured as per IS 7894:1987 are also available. These fittings are available in sizes 20mm to 160mm in diameter for pressure rating classes i.e. 4 to 10Kg/cm2 .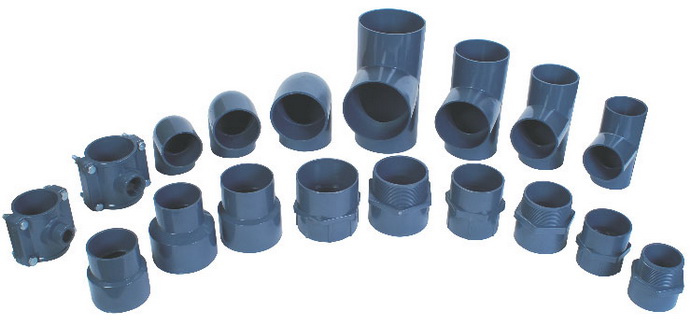 Salient features
Smoother bore in comparison to AC, CI and GI pipes thus better flow characteristic.
Light weight offers total economy in handling, transportation & installation.
Seamless, strong and resilient.
Resistant to chemicals, electrolytic and galvanic corrosion.
Odourless and hygienic for transporting potable water as they are not subject to contamination.
Self-extinguishing quality eliminates need for fire resistant coating.
These pipes are free from weakness caused by scale formation, rusting, weathering & chemical action that makes PVC more durable.
Applications
These uPVC pressure pipes and fittings are widely used in:
Agriculture.
Irrigation.
Water Supply.
Industrial process lines.
Swimming pools.
Fire Fighting Mains etc.
SWR PVC Pipes & Fittings
Product Range
Saurabh Shaktiman SWR piping system conforms to IS 13592:1992 standard and has time and again proven its superiority in quality and longevity over conventional CI and AC products. This excellently designed system provides smooth surfaces enabling fast and efficient removal of waste without blockage and leakage. Further, special UV stabilized compound, improves the weatherability of the Saurabh Shaktiman SWR System, ensuring an enduring life-span when installed in any climatic condition. Moreover, its high impact strength, chemical and corrosion resistance, long life and virtually zero maintenance makes it a preferred choice for end users.

Selfit (Socketed) Range
One end of the pipe is plain and the other end of the pipe is self-Socketed on sophisticated machines for higher degree of accuracy for the available range from 40mm to 160mm diameter. These pipes form a leak-proof joint when joined using solvent cement. Fittings are also available from 75mm to 160mm diameter.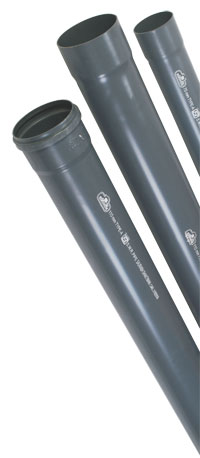 Ring fit Range
One end of the pipe is plain and the other end of the pipe is self-Socketed with an integral groove to hold the rubber gasket. When joined with rubber ring, the joints are trouble free, leak-proof and weather resistant. These pipes and fittings are available in sizes of 75mm to 160mm
Advantages
Easy to install
Free flow and durable.
Unaffected by termite, bacteria and fungus
Highly resistant to Chemical, Acid, Alkalis, Cement, Lime, Oils and Domestic Affluent
Applications
Drainage and Sewerage purposes
Brewery pipelines
Underground or surface drainage
Industrial & Chemical effluent disposal
Acids & slurries transportation
Rain water harvesting system
Building ventilation & discharge system
CM/CS/Ribbed Screen Casting Pipes
Product Range
Saurabh Shaktiman Casing pipes eliminate problems such as corrosion and encrustation etc. associated with conventional pipes. Saurabh Shaktiman offers varieties of pipe for borewell applications to cater to every need of borewell sector which includes casing pipes confirming to IS 12818:1992, Ribbed screen casing pipes for tubewells. SDR casing pipe series for shallow depth applications as per company standards and plain pipes as well as screen (slotted) pipes are available in every category of casing pipes. (Slotted pipes can also be used for rainwater harvesting). Submersible column pipes for submersible pumps are also offered to lift the water from the wells. Saurabh Shaktiman Casing pipes are available in 100mm to 250mm diameter in CM and 150mm to 250mm diameter in CS. SDR pipes are available in series SDR-35, 47 and 60.
Salient Features
The PVC threaded casings have several advantages over conventional steel well casing.
Corrosion free.
Economical than other conventional casing
Does not support bacterial growth
Resistant to most of the chemical reactions
Durable and maintenance free as compared to other conventional casing pipes
Smoothed finish inner surface insure no friction losses and better flow properties
Due to low weight of PVC casing pipe, compared to conventional pipes, it is easy to handle and install.
Applications
Tubewell and hand pump casing domestic wells, irrigation wells, industrial wells and mines
Underground casing pipes which are laid to pass cables and other pipelines, which carry liquid, Gas or other fluids.
Well accepted by construction industry in India and abroad
Plumbing Pipes
Product Range
Saurabh Shaktiman Plumbing system is the most suitable, easy and economical solution for distribution of potable water. This system is technically superior, cost effective and offers many advantages over conventional G.I. piping system. Saurabh Shaktiman plumbing pipes are manufactured from ½" to 2" in diameter in SCH-40 and SCH-80 as per ASTM standard. This system is not only very easy to install, but also, is functionally most suitable for all plumbing applications like uptake lines, terrace looping and down take lines in buildings and houses.
Salient features and Applications
UV-Stabilized (No sunrays & weather affect)
Assured supply of clean & hygienic water.
Economical / low operating & maintenance cost.
Lightweight, easy & fast installation
No root penetration
Excellent corrosion & chemical resistance
No deposition, No reduction in bore size
Mirror smooth inside ensure high flow rates
Unaffected by termites, fungus or bacteria
No algae formation
100% leak proof joints
Non conductor of electricity & low thermal conductivity
Seamless, strong & resilient
No galvanic action with CP & other fittings
Longer life
Well accepted by construction industry in India & abroad
Unique self extinguishing quality eliminates need for fire resistant coating
Column Pipes
Product Range
 Saurabh Shaktiman column pipes have been specially designed and manufactured to withstand system load comprising of pump, water and pipe weight with adequate factor of safety. These pipes are available in 1 inch to 4 inches in diameter.
Salient Features
High tensile strength
High impact strength
Light weight
Easy and fast installation
Water tight joints
No rusting
No deposition
Unique design
Longer life
Overall economy
Higher izod-impact strength even at low temperature
Specially designed buttress threaded profile gives optimum tensiles (pulling) strength
Four ribs on couplers for higher strength
No formation of Algae, fungus & scaling
Anti-abrasion and anti-corrosion gives long life
Smooth internal surface reduces energy consumption due to friction free water flow, increasing the life of the pump
Higher tensile (pulling) strength
Light weight and easy to install
Saurabh Shaktiman column pipes are most economical than pipes & MS pipes